No-Churn Avocado Ice Cream
May 21, 2015
For those of you who do not have an ice cream machine at home, this is the ice cream recipe for you this summer - no ice cream machine needed!
When I was a kid, my mom used to make a frozen avocado dessert whenever avocado was in season. Avocado in savory dishes tastes weird to me simply because I grew up eating this fruit as dessert. Anyway, the frozen dessert was pretty simple and straightforward - slice avocados into small cubes, add enough Nido (powdered milk) and powdered sugar, mix, freeze. That's it. Sometimes, my mom would add condensed milk to make it a little more decadent.
The principle behind this ice cream is the same thing - it's basically the same ingredients as the dessert mentioned above only this time, they're all blended together.
For many days, I had the above-pictured food for breakfast - scoops of avocado ice cream paired with mangoes and coffee with soy milk. You can very well eat the same for dessert. Hehe. This avocado WITH sweet mangoes is the bomb! They're perfect with each other, I can't believe I haven't discovered this earlier. Try it to believe it. ;)
makes about 1 and 1/2 quarts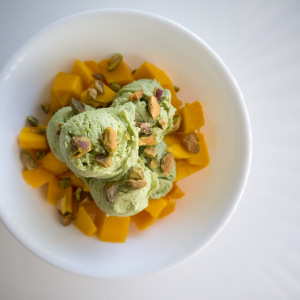 Ingredients
6

avocados, mashed if not using a blender

1 can (14oz)

sweetened condensed milk

1 cup (250ml)

heavy whipping cream

1 small can (7.6oz)

Nestle cream (table cream)

1/2 cup

whole milk, or any other kind of milk you like

1/4 cup

chopped pistachios, optional
Instructions
Put the avocados, milk, and cream in a blender or food processor. My blender is too small for this volume and we do not have a food processor so I just used my stand mixer with a whip attachment since the avocados were very soft.

Blitz/whip until smooth and creamy. Mix in pistachio nuts, if using. Freeze for a couple of hours.

Take the ice cream out of the freezer 15 minutes before scooping. Enjoy!