Boozy Chocolate Sherbet
May 19, 2015
Chocolate ice cream - that's what I wanted to make. But as I was browsing through
David Lebovitz's website
, I saw his recipe of chocolate sherbet. Sherbet vs sorbet - wth is the difference?
Apparently, "a sorbet has no dairy or eggs in it, and sherbet is usually made with milk or egg whites," according to Lebovitz. There you go.
In the original recipe, the alcohol is not supposed to be prevalent and is used to enhance the chocolate flavor and help avoid hard "un-scoopable" ice cream. (Again according to Lebovitz, alcohol and sugar do not freeze so adding these to homemade ice cream helps make them "scoopable.") It is completely optional but I thought, I'm already adding liquor into this, so let's just make the most out of it, eh? Besides, I've always wanted to try liquor-infused ice cream. So yes, I used more liquor than the original recipe. Hehe.
This chocolate ice cream is rich and smooth (even if it doesn't look smooth in the photos). Small icicles formed on the outside of the ice cream when I scooped it out - it was a pretty warm day. The kahlua isn't overwhelming but you can taste it in the ice cream. M liked it and I reckon I'll be making more of this ice cream soon, perhaps with chocolate chip and marshmallow mix-ins a la Rocky Road. Yum!
makes about 3/4 of a quart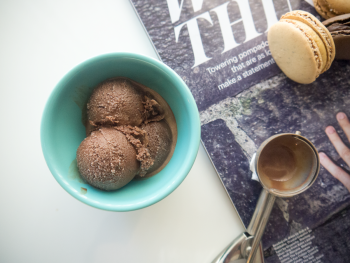 Ingredients
2 cups (500ml)

whole milk

1/2 cup

granulated sugar

pinch of

salt

1/2 cup (50g)

unsweetened cocoa powder - Lebovitz recommends Valrhona or Askinosie but I didn't have any on hand so I used Ghirardelli's premium cocoa powder

4 ounces (115g)

bittersweet or semisweet chocolate, chopped

1/4 teaspoon

vanilla extract

4 tablespoons

coffee-flavored liqueur, such as Kahluà
Instructions
In a medium-sized saucepan, warm half of the milk with the sugar, salt, and cocoa powder.

Bring to a full boil while whisking, then reduce the heat and simmer gently for 30 seconds.

Remove from heat and add the chocolate, the vanilla, and the coffee-flavored liqueur. Stir in the other half of the milk.

Taste, and if the chocolate is a bit grainy, puree it in a blender to smooth it out.

Chill thoroughly, then freeze in your ice cream maker according to the manufacturer's instructions.